February 17, 2023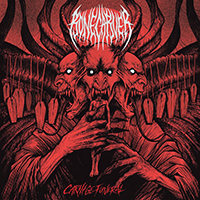 The intriguing mystery of the introduction is complemented by chorales combined with symphonic musical passages, which further create a joint background for the harsh musical growling and screaming of the main vocals of the title track of the Bonecarver - Carnage Funeral album, which begins its musical fairy tale with its unexpected stylistic combination, paying tribute to the assertive drive of the Ancient Atrocity composition in further sound, alternating screaming and growling in the vocal part.
Triggering the waves of the harsh and combative stubborn The Reckoning march, the music and vocals will unite in a joint procession, sometimes rising together in a bright burst of tempo acceleration and sparkling inspiration of vocal charisma, cobbling music and vocals in the joint furious explosion of the Thorned musical thriller, retaining, however, shades of an epic saga and a twilight musical tale.
Returning again to the ascension of the symphony in musical sound, the Pillars of Tragedy suite fascinates with the manifestation of the unity of drive and melodic charm, continuing this in the further embodiment in the musical charm of the Morgue Desecrator dark musical fairy tale.
The mysterious majesty of the chorales weaves the lace of the introduction of The Red Wake composition, further pushing the vocal part to the forefront of the musical image preceding the embodiment of the Horror Disorder song's name in a musical atmosphere, enveloping the twilight lace of ghostly mystery of the vocal narrative and the epic shades of the Bereavement composition, completing the album in accordance with its stylistic shades.