August 03, 2019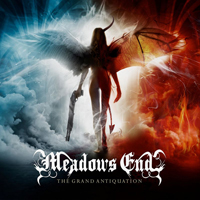 The epic inspiration of the Devilution (feat. Tommy 'ReinXeed' Johansson) composition pumps a majestic mood and bewitching inspiration to the beginning of the Meadows End - The Grand Antiquation album, complementing the sound of the bewitching symphony with severe vocal phrases.
Keeping the tint of an epic tale the Storm of Perdition continues the album, pumping up waves of drive driven by vocal phrases in significant mesmerizing musical passages. The Svept i Sorgeplad ballad, captivating by the atmosphere of incredible romanticism, gives the album an air of enchanting mystery and bewitching romance.
Rising up the whirlwind of the swift symphony, Night's Bane combines symphonic melody and severe metal drive in its sound. The inspirational narrative of the Non-Dreaming Eye main motive marches with a majestic look, inspiring further listening to musical creation. Her Last Sigh Goodbye preserves bewitching inspiration, enveloping the harsh growling phrases with valiant banners of bewitching epic grandeur.
In the music of The Insignificance of Man composition, first the enchanting female vocals of the singing lady go to the front vocals, but then growling is riding on the dragon of a severe drive. The romantic guitar solo creates a bewitching atmosphere of intro, developing into the main motive of the final composition of the album I Stilla Vemod Vandra.