February 04, 2017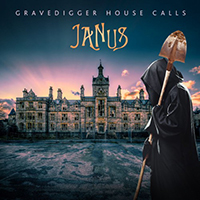 Life consists from the set of moments, minutes, seconds - but Janus (GBR) - Gravedigger House Calls will not live without its experiments.
The insistent sound of Let's Go Down To The Beach holds on tight, interspersing its urgent statements with the oddest sounds and distorted words.
Great fascinating motif captures a major role in Watching You Dry from its first sounds. Refined and romantic lyrics flashes as bright sparkles in the brooding melancholic composition, matching with the sound of vocals duet.
The main motive of Chewing The Fat the bass guitar leads, surrounded by bursts of keyboards inspirations.
A gentle female vocals illuminates Walk On Splinters with its delicate sounding, putting notes of sublime sadness in a beautiful melancholy ballad.
In county-style Wooden Spoon embodies light sadness for house cosiness and what's left in the distant past. Let that becomes unnecessary and have found replacements - but has gone forever and left bright memories in mind.
Enumerating all of what you will be asked to give, do not try to ask and to know that how and why - you're On Your Knees. So in the name of...anything - have to do ...everything! Fine instrumental passages of keyboards and guitars confers explanations of this strange request.
Clear vocal monologue that aligns with instrumental bursts creates main motive of Winters Tale, which sound like thougtfull confession.
Lyric melancholy ballad Midnight In My Soul in interrogative manner poses questions, answers on those can not be absolute - only for personal for each own.
Sinners Blues traces its story covered with dust of time, following the striking motif of harmonica.
Sit Down And Listen tells the first word of this fairy tale. Gentle female vocals tenderly tells them to all of us, laying the foundation for a beautiful, romantic and tender ballad.
The rhythmic outbursts and emotional phrases inflate the nerves, creating a vivid expression to fine My Top Hat tune, that can't become boring with its ornate vivid motifs.
Mysterious instrumental saga Slightly Deranged Onyx reveals the cryptic motives of the soul, hidden behind the wonderful inspiration of melodic guitar solo.
Inspirational guitar break complements with bright piano notes, then the angelic operatic vocals tells about the Sanctus. Then refined vocal continues to lead its enchanting story with delicate notes of a piano, completing the album with divine melodies.