April 04, 2017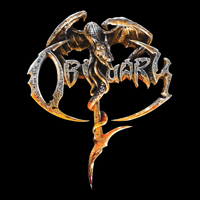 Anyway, how dusty and rusty the old armor suit Obituary - Obituary , but its good steel protecting generations of ancestors of the man, claded in that armor!
Furious frenzied drive rushes from the first seconds of the Brave. In a simple, spiteful and furious manner, its breaks through any shapes.
The mighty power continues to press in Sentence Day, pulling the nervous vocal phrases to the front end of the sound, then being inspired by the guitar solo.
Rhythmic march A Lesson in Vengeance marches, powerfully and confidently walking on his path blazed by the harsh and tough guitar riff.
Rapidly increasing pace carries End It Now on the wings of gloomy and painful music through a dark night and gloomy anticipation. The chorus brings rigid rhythmic respite after verse rapid rush, roughly and toughly leading to the instrumental delight of guitar solo, severely and powerfully completing the composition.
Rhythm is saturated and compacted, clearly and confidently demanding of Kneel Before Me. Obsessive exactingness is presenting so viscous and burdensome guitar solo breaks.
Viscous, burdensome music of It Lives immerses in the abyss of dark horror, gloomy anticipations and impenetrable darkness of night with demonic obsessions.
The main motive pierces the entire Betrayed composition with sharp wide blade, wrapping the guard and the handle with the swirl of guitar riffs.
A stern growl and stiff, slow rhythmic beats begin Turned to Stone, turning into a viscous, rhythmic jagged march of stoned golem. Guitar solo throws the rhythm into rapid, fast rush.
Straight to Hell continues to mix so dense, gloomy, burdening brew, sweeping the haze of vocal phrases over the potion.
Cruel, harsh guides Ten Thousand Ways to Die rigidly and violently threshing in the spirit of the good old days, completing the album.
But the deluxe edition complements with No Hope (Bonus Track), confidently and honestly bringing back the spirit of good old times.