June 24, 2020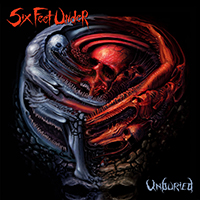 The epic procession of the Violent Blood Eruption musical extravaganza erects a pantheon of inspired narrative, topped with a charismatic vocal part. The vocal part comes to the fore in the sound of Midnight in Hell song, continuing the Six Feet Under (USA) - Unburied album with a mid-tempo solemn anthem, braiding the vocal reflections of the crimson toga.
Keeping the mysticism of a mid-tempo epic atmosphere Gore Hungry Maniac hardens the vocal part to a deep, on the verge of guttural, growling. The Re-Animated brings revival with the rock'n'rock dance, crowned by the malice of severe growling. After a war drum roll, vocal phrases comes to the forefront of the Intent to Kill battle march.
Combining a mystical atmosphere and variations of pace The Perverse complements and combines this with explosions of rampant drive. The Possessed facilitates the sound by dragging vocal growling into a rampant dance. The As the Dying Scream track, on the contrary, hardens the vocal narrative and tightens the musical narrative. The Skin vocal monologue in a waltz with guitar riffs completes the album.