April 20, 2023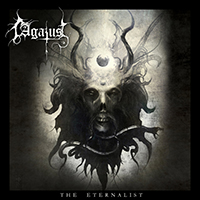 The title track begins the musical story of the Agatus - The Eternalist alrm with a leisurely pace, accentuating the shades of the musical fairy tale with emotional vocals shades and artistic musical variations, continuing the musical creation with the assertive and impetuous drive of the The Invisible (Fifth Portal To Atlantis) song, crowned with fierce and furious vocals phrases.
The guitar solo of the intro weaves the musical canvas of The Oath (Of Magic And Fire) main motif, then rolling it out to indicate the path of the procession of vocals lyrics, slowly and thoughtfully expounding its story in the run-up to a furious musical thriller that completes the acoustic guitar chime of the introduction, but then again returning to ancient legends in the musical story of the Gods Of Fire epic saga. The Dreamer bard ballad again builds the leitmotif based on the guitar solo of the introduction, bringing new notes to it with guitar solos and shades of emotions with the vocal part.
The mesmerizing guitar solo concludes with the narration of the sage with chorales in the background, which further constitute the musical support for the Perils Of The Sea (Pt II) epic saga, continuing in the sound of the At Dusk I Was Born composition, which brings the vocal part to the forefront of the musical image.
The enchanting sound of the Flight Into Forever ballad weaves fascinating lace and echoes of forgotten legends and fairy tales, weaving bright guitar riffs and emotional vocal phrases into it. The Gilgamesh musical tale will captivate melodic itar solos into the mysterious interweaving of ancient legends and myths, intertwined in the twilight haze preceding the pensive acoustic guitar solo of the To Last final composition of the album.