March 01, 2021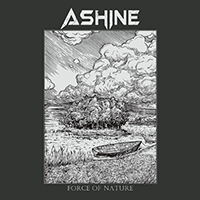 The Mourning Those Born Again sublime instrumental symphony sets the path for the procession of the Black Stars composition, developing musical motives to furious impetuosity and fierce mid-tempo fragments, continuing the musical history of the Ashine - Force of Nature album with vocal phrases. Weaving mesmerizing intrigue from the guitar solo of the intro, the Power is All carries away a whirlwind of guitar riffs topped with vocal severity, varying tempo and stylistic elements.
The Force of Nature begins with a drum roll that anticipates the motives of South American folklore. Intriguing with a guitar intro, the Raging then rolls on with the harsh hardening of growling-like harsh vocals, sometimes whipping up in a fast-paced whirlwind with harsh vocals close to screaming. The sound of rain outside the window recedes before the melodic tunes of the No Return instrumental bardic saga.
Combining elements of a romantic ballad with whirlwinds of impetuous drive, the Prison of Mirrors captivates the listener with a mesmerizing atmosphere of sensual melody. Vocals complement the variety with clean vocals. The epic musical canvas of the Pagan majestic anthem is complemented by the valiant notes of the battle march. The Into the Abyss (Remastered) song ends the album by reimagining a composition from the band's first release.