January 08, 2022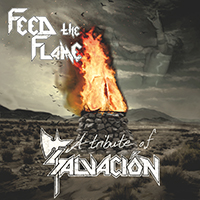 The guitar solo intro charms with its unity of free-spirited atmosphere and rock'n'roll spirit, then transforming into the main element of the leitmotif, crowned with the vocal meditations of the Salvacion - Feed The Flame album's title track. The Backseat Betty immediately swells up in a whirlwind of unrestrained impetuosity, accentuating the final sections of the bars with rhythmic breakdowns.
The title deceptively inspires the anticipation of a romantic ballad, but then the Serenade track soars with an energetic dance of bright and impressive drive. Introducing echoes of a romantic ballad with oriental influences, the Ma Deuce composition then swirls in a whirlwind of piercing drive, but in the final fragment it returns to the motifs of the introduction.
The bright guitar solo prepares for the exciting sound in the unity of music and vocals created by the Savage song. Beginning with echoes of a romantic ballad, the Going To Hell composition then turns to the unity of solemnity and elegance in the musical image of a thrilling mid-tempo anthem to musical melodicity.
Preparing in the introduction the foundation and basis for the further musical start with thoughtful reflections, the Witching Hour Girl composition then preserves the melody of the main motif and adds acceleration and waves of drive, tempering the rapidity with the significant procession of the End Of Kings valiant anthem with echoes of the battle march and epic sagas of antiquity. Echoes of live concerts and a demonstration of the Doctor Doctor (Ufo Cover) [Live] sources of inspiration for the band's work rounds out this release.