January 17, 2019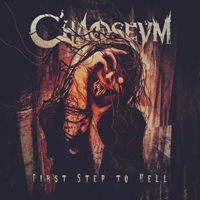 Pulsating drumming anticipates the introduction of Lilith guitars and vocals, interlacing in an intriguing dance of the verse, anticipating the majestic anthem of the chorus. Already in the first composition, the Chaoseum - First Step to Hellalbum indicates its versatility and artistry.
Starting with charming female vocals and a romantic ballad, then Don't Waste Your Time violently becomes fierce and turns into a driving thriller, sweeping a furious musical drive in a verse before a brooding vocal phrases.
Vocalise in the Crawling In the Dirt intro introduces a touch of lounge and cabaret, then this motif becomes bitter, soaking up the deministic charms and gloomy moods, entangling the singing singing of the singing lady with a dark triumph, in the chorus the female vocal lifts melodic romance to the top of the musical image.
The mysterious twilight haze of the Blue Scorpion intro envelops with an obscure mist the epic narration of the vocal part, then the inspired saga is bounced into an epic medium tempo musical tale embodying echoes of ancient legends. In the instrumental part, the guitar solo brings even more epic influences of fascinating fairy tales, culminating in an inspired musical chorus canvas.
Tightly and confidently the harsh musical flow is approaching with confident, leisurely title track's First Step to Hell intro, then the vocals complement this unhurried, gloomy narration with emotional nuances, rising to the top of the musical image in the chorus.
Transforming music with a pulsating march F T S embeds the main story on the dialogue of vocal hypostases, building their speeches in an alternating recitative with the final phrases of dreamy chants.
The instrumental composition New Dawn (Instrumental) adds echoes of electronic motifs to the album, culminating in symphonic influences that complement the music with epic fabulousness. After the viscous and thoughtful compositions, the Kill or Be Killed prelude sweeps up a whirlwind of drive, but the vocals envelop with a spicy echo of the desert, but then the furious drive of the couplets alternates with epic chorus sagas.
Dark musical passages envelops disturbed vocal phrases with gloomy twilight, but in the Devil's Wedding chorus the vocal rises in encouraging inspiration. Rock Rock continues this style, but expands the stylistic framework of the album, introducing the trends of hard and glam rock of the 80s. The acoustic guitar begins with its solo with a symphonic background the final instrumental composition of the album Between Two Lives (Instrumental), continuing with a fascinating musical atmosphere.