March 16, 2022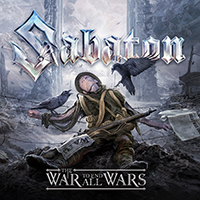 Energetic, lively, and driving, the Stormtroopers track begins the Sabaton - The War to End All Wars album with a whirlwind of musical passages enveloping an inspired vocal narrative. The Dreadnought song combines the rhythmic march of a persistent battle march with vocal reflections, complemented by the allure of musical melody. The Unkillable Soldier epic saga brings the vocal part to the forefront of the musical image, complementing its martial mood with appropriate musical support.
Somewhat transforming the sound of the musical style, the Soldier of Heaven song adds futuristic echoes of electronic pulsations to the sound, complementing the romantic mood of the battle song of comrades-in-arms and brothers-in-arms. After a fierce guitar solo, the Hellfighters track combines the battle sagas of wandering knights with enchanting covers of melodic artistry and symphonic influence, developing a similar musical in the rhythmic procession of the thoughtful and meaningful Race to the Seamarch.
The Lady of the Dark composition confidently and impressively brings the vocal part to the forefront of the musical image, supplementing the main vocal with the support of the comrades-in-arms in the chorus. The Valley of Death song captivates with exciting main motif, crowning it with the vocal part, the Christmas Truce romantic ballad inspires memories of the former battles and brotherly feelings and memories of comrades-in-arms, developing the same mood in honor of valor by the sound of the Versailles final composition of the album.