August 24, 2020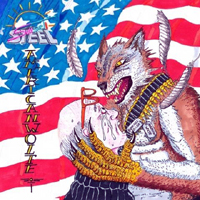 The guitar solo enthralls with an intriguing introduction, then the Nightmare song again and again emphasizes and accentuates its name in the chorus, in the middle of the composition enveloping a dark fairy tale with musical mystery, anticipating the mysticism of the guitar solo of the instrumental part. The title track continues the Sunset Steel - American Wolfe album with an enigmatic vocal narration, entwined with a twilight mystery of guitar passages.
Rolling waves of the main motive the By The Balls song brings some playfulness with vocal phrases. Inspirational whirlwinds of the Full Pull mid-tempo musical anthem are rising track's vocal phrases to the top. The music of the Don't Be That Guy main motive creates an atmosphere of sophisticated sublimity, combining musical grandeur with vocal significance.
The guitar solo introduces a mesmerizing mystery, the vocals complement the musical epic, creating the atmosphere of the Hero Of The Night inspired march. The whirlwind of the guitar solo ends with the rhythmic pulsation of the Pride Of Glasgow battle march. Beginning with a cry of despair the Tour Of Pain ends the album with waves of restrained drive.