September 05, 2019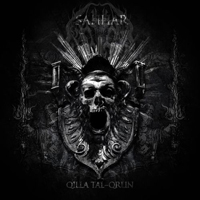 The epic introduction of the Kantiku Kkankrat ends with the re-enactment of screaming and growling the Bedwin vocal phrases in the Sahhar (Saħħar) - Qilla Tal-Qrun album's musical laces.
The pulsating musical narrative sets the experience of the Irmied Tal-Haruf main motive, growling dominates in the vocal part, but the enchanting whirlwinds of the musical passages envelop the vocal narrative.
Driving in the harsh waves of unbridled drive, the Tibla L-Ostja... music calls for vocals that carry the banner of the main motive of the dark anthem. ...U Jistennewk Ix-Xjaten continues the previous composition, completing the painful trends of thoughtful thoughts with a wave of furious drive, grinding any adversity with unbridled fury.
The mystical atmosphere of the Qilla Tal-Qrun title track's instrumental passages envelops in fairy tales of foreboding, completing a rite that gives the music its epic outlines. Viscously and painfully Il-Waqgha continues the album, deeply and severely rolling in the waves of the gloomy march. Deeply and severely leisurely drive the musical trends of the march into the depth of the instrumental musical essence.
Keeping the mid-tempo marching structure of the rhythm of the composition, the vocals returns to the album, setting some epic trends in the middle of the Ixrob Mill-Kalci, Ja Poplu Mishut! composition, raising the banner of the dark anthem. But Hmieg Ta' Isa, Irmied Ta' Eluf again returns to the instrumental essence, twisted in the clouds of solemnity, however complementing the instrumental passages with vocal phrases. The completion of the album Mistoqsija Ta' Dejjem in some way transforms its sound, combining the severe growling with the enchanting tunes of female vocals.