July 15, 2021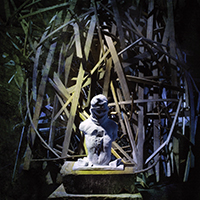 After the imaginable intrigue of the entry of the By Tooth in Tongue song rhythmically, tightly and hard drives the sound of his procession, preferring the combination of power, melodes and vocal severity of a hurry rapid rapidness. But screaming vocals appeals to the development of a musical entity - which leads to the manifestation of clean vocals in the musical expanses of the Withered (USA) - Verloren album. The Predation music is harder and accelerated, alternating screaming and growling in the vocal party.
The sound of the Dissolve song is enveloped by the atmosphere of twilight mysteriousness, combining ambiguity with margin premonitions - as if there are an extension of ancient prophecies. The Casting in Wait composition after angry appeals in combination of screaming and growling places the pace in a violent whirlwind, but again returns to the measured thoughtfulness.
Unclear mysteriousness and some distorted conversations create the Passing Through mysterious atmosphere that anticipating the rolling sound of the ...The Long Hurt composition, measured and thoughtfully driven by piles of its path. The title composition of the Verloren album distracts a leisurely guitar solo, enveloping the atmosphere of acoustic thoughts. The final album's track, the From Ashen Shores, appears as an its most variable and versatile part.