January 26, 2018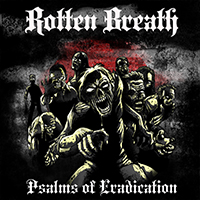 The dispute with the old woman with a raspy voice precedes a powerful wave of drive, rolling in an overwhelming power and carrying on its wings a deep growling vocals. Possessed composition fully reveals the sound of the Rotten Breath - Psalms of Eradication album.
The questions of the madman precede the grim breath of a dark fog, which Wolves is piercing by its fangs, but the darkness is only condensed, twisted by the whirlwinds of ghosts in the gloomy haze. The gloomy fog envelops all around - so They tries to release from that possesion, in the dense darkness of which the vocal party pulses, in an obscure march moving through the impenetrable darkness.
Band's title track Rotten Breath in a rapid unrestrained impulse to strive to escape from the dark chains of black charms, seeking to protect their light souls from the pernicious influence of the decaying undead. In this mist and darkness, the Bringer Of Light heroic figure rises the flaming sword over evil demons, slashing dark chainmails and rusty armor of the black knights in though and confident march with righteous light.
But the ominous darkness does not want to retreat, in the black abyss of its insidious thoughts there is a weapon that is elusive by righteous heroes who carry light despite the evil charms. This Parasite continues to fight out of the shadows, in a diverse composition combining a furious drive and deep gloomy passages battling with the forces of light.
Starting with the gloomy mysterious musical fog, The Hunt is then carried away in a rapid procession, hurrying to track down and obtain all the goals that the hunting instinct requires.
Waith that's great album - so there's no sense to finish it so hastily - so Wolverine Blues, Entombed cover as tribute to the legends sums up this gloomy saga as well.