May 20, 2020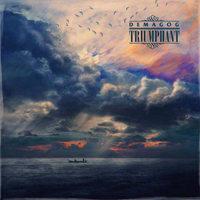 A comprehensive title track Demagog Triumphant combining both the name of the Demagog - Triumphant album and the band begins this release with a very interesting combination of the epic saga and furious drive, continuing this unity in the next song It's Carnivore, however, paying more attention to its sound with unbridled drive, entwining vocal rage.
Slowing the procession down to the grandeur of the solemn march True Nouveau Riche track inspires the sonorous tunes of the epic anthem, crowning it with a vocal narration, combining them in a single majestic procession. The Quest for the Identity intro's guitar solo captivates with its artistry, then braiding the harsh vocal narratives with sparkling ribbons of the guitar solo. The procession of The Struggle mid-tempo march complements the meaningful focal phrases with support for guitar riffs, combining them in a single musical stream and captivating with the artistry of the guitar solo of the instrumental part.
Rolling a roller of thought of vocals doubts Eden supplements this twilight with symphonic decorations of instrumental bridges, occasionally exploding by storm of restrained or swift drive. The following Escape the Torture... Sorrow Unleashed composition is like a separate musical creation, combining a pensive symphony and a variation of a furious drive. Such a multi-valued epic saga will leave everyone with personal impressions. The Blessing of Tapa continues the long and unhurried "epic saga - style", more clearly and confidently emphasizing the musical image on the sound of the leitmotif. Concluding the album with an equally significant musical phenomenon, Freewill Sacrifice... Mindset of a Warrior combines in a single musical narrative various forms of battle marches, a furious musical thriller and epic trends of knight sagas.