July 30, 2020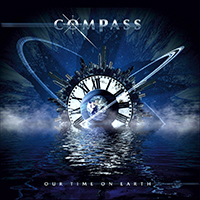 The broken artistry of the Skies of Fire musical motives sets the mood for the progressive variability of the Compass - Our Time on Earth album's music and vocals, combining them in a bewitching unity of mystery. Begins a dilogy of musical greatness, bringing vocal experiences to the forefront of the Our Time on Earth Pt I musical image, successfully and successfully complementing and completing vocal reflections with musical improvisations.
Musical improvisations bring the charm of cosmic breaths and currents, combining progressive solutions of instrumental solos and bitterness of a vocal part in the Caught in a Frame musical extravaganza with a frantic acceleration of the pace. The Neon partly continues the musical motives of the previous composition, but diversifies them with romantic thoughtfulness and pulsations of mid-tempo artistry.
Symphonic mixes and inspirational vocal narration create The Preacher and the Pigeon Feeder pensive atmosphere, then raising a whirlwind of impressions and especially raising vocal experiences into the sound of Another Life Suicide composition. Shades of dance echoes and pulsating keyboard improvisations intertwine in a progressive dance of incredible complexity, setting the mysteriousness of the introduction of A Warning from History song, dispelling musical complexity with vocal charm.
Developing the concept of the album in a romantic presentation of the obscure mysteriousness of the introduction, the Our Time on Earth Pt II completes the dualism of the dilogy and the entire album seems to be a separate creation.