June 21, 2021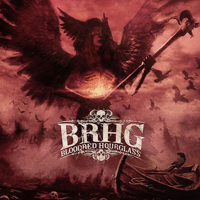 Music drive of the Waves of Black intro retreats from the emotional pressure of vocal phrases, uniting with them in bridges and choruses. The Unfinished Story continues the musical narration of the Bloodred Hourglass - Godsend album with a watering and stubborn sound, combining music and vocals in the uniform compound of the mid-tempo march.
Accelerating the musical race in rapid impatience, the Devourer is somewhat holding back this rapidness of the vocal party, combining and alternating screaming and grovering, sometimes even completing them and diverse if with a harsh vocals. The Alysia song is charming the melodic sound of the intro's guitars solo, then developing a romantic atmosphere in addition to vocal phrases.
Electronic notes of keyboards of the My Route intro expands the artistic sphere of the album, giving the sound also exhaust symphonic shades. The Pieces continues the musical narration by the syntry perturbation of vocal phrases, deriving the vocal party to the forefront of the musical image.
The sound of the Ask and You Shall Receive musical composition again builds a melodic charm based on alternation and a combination of vocal styles. The August song is rolling the waves of an unrestrained drive, having a banner of the charming melodiousness in the chorus. The vocals part immediately captures the dominant position in the On My Throne composition, fascinating the musical passes to follow the specified path. The White Feather puts the final point in the album with a melodic unity of music and vocals.