March 03, 2022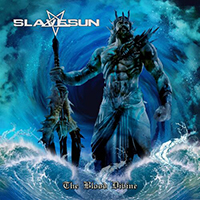 The symphonic introduction of the Rise Against And Forgotten musical saga anticipates a fierce musical background and vocal severity, then the music pushes waves of twilight mystery with touches of black spells. The Gods Of Obscurity song, after a mysterious introduction, wraps the vocal musings in a branching musical veil of twilight tale. The title track continues the Slavesun - The Blood Divine album's musical narrative, first bringing the vocal part to the forefront of the dark intro anthem, then progressively and artistically combining the drive and dark symphony in a single musical stream.
After the preparation and weaving of viscous musical covers, the Ruthless War The Leader composition wraps them around the harsh vocals omens, complementing them with artistic guitar solos of the instrumental part and echoes of the majestic keyboard echoes of symphonic influences. The Blazing The Dionysian musical thriller dissipates the gloom with furious intensity and furiously works its way through the chosen path despite resistance.
After an intriguing suspense in the mysterious introduction, the Immortality march rhythmically and irrepressibly winds its way toward its chosen goals and the battles to come. The Gorgons Retribution symphonic saga creates an enchanting atmosphere to develop the motifs and meaning of the ancient tale with its accompanying musical drive and vocals fury.
The rhythmic, rolling and powerful Agonize march unfolds the musical canvas before the vocal procession, continuing a similar musical style in The Thracian Orpheus intro, and then furiously and assertively raising the banners of musical fury and power. The Unearthly Beast composition completes the concept album, dedicated to ancient tales and legends, with the embodiment of peculiar musical solutions.