January 18, 2020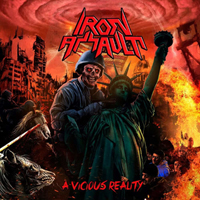 The Divide and Conquer announcement of announces the beginning of combat actions and calls for finding a safe place to stay for refuge, then the Wake Up (A Vicious Reality) title track continues the Iron Assault - A Vicious Reality album with an explosion of furious drive, focusing more on the instrumental anger of guitar riffs, complementing the sound with vocals only in the final part.
The guitar solo of introduction sets the mood for a fierce thriller, then combining the harsh mid-tempo drive of bridges with furious vocal phrases that accent the Psalms of the Damned song's title in the chorus. The guitar riff of the By Blood and Iron introduction sets the gloomy mystery, then in the music rolls a pulsating march in waves, accelerating the tempo to the brink of an average tempo with the introduction of vocals.
Epic grandeur raises the charm of musical narration, but then the M. I. A. transforms into thriller and explodes with a jet of furious drive, preserving some of the echoes of a battle anthem. Pointing the guitar riff of the main motive Shell-Shocked stubbornly and relentlessly follows his path, rejecting resistance, hardening and giving unrestrained swiftness to music with the introduction of vocals, which also hardens his part in bridges and choruses.
The harsh and viscous viscousness of the Prophets of Doom introduction is confusing, but the introduction of vocals is preceded by the insane swiftness of the drive, breaking the shackles of a viscous musical twilight. Assault or Die completes the album, again beginning with a viscous musical canvas, but the introduction of vocals transforms the musical image with furious swiftness.