September 24, 2020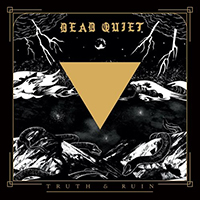 The gloomy grandeur of the guitar solo of the intro, crowned with the background atmosphere of the keyboard symphony, indicates the path of development of the main motive, then complementing the emotionality of the vocal narration in the Atoned Deaf mid-tempo march. The final fragment of the musical composition slows down to a painful twilight. The Forever Unsung song immediately starts with vocals, continuing the Dead Quiet - Truth and Ruin album with an inspired artistry of combining vocal phrases and musical passages. But then the music and vocals take on a more elevated atmosphere, complementing the guitar riffs with a keyboard symphony. The Of Sound and Fury track complements the musical style of the album with progressive variations of the rhythmic essence of the musical composition, transforming the accompaniment into a majestic anthem before the vocal intro.
The title track Truth and Ruin begins with a muted romance, then condenses the musical essence to a saddened anthem, bringing a mysterious solemnity to the chorus. Rounding out vocal phrases with a round dance of guitar riffs the Partial Darkness crowns this musical narration with covers of keyboard parts.
The Sign of a Sealed Fate vocals and music captivate with a majestic unity, enveloping the enchanting waltz of musical combination with keyboards symphony. The guitar solo of the instrumental part combines anxious impatience with the sublimity of keyboard artistry, then accelerating the pace of musical narration in anticipation of the final piece of the song. The dark grandeur of the Cold Grey Death intro sound returns again in the choruses, creating a fragment of calm reflections in the verses of the final composition of the album. The final point in the release is an acoustic guitar solo.