January 03, 2020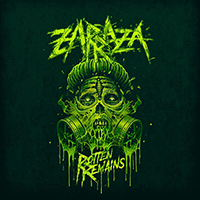 The energetic Chaos thriller with a furious and unbridled drive begins the Zarraza - Rotten Remains album, pumping a shaft of epic severity in instrumental bridges before the chorus. The guitar solo of the Bullets & Beliefsintroduction comes to the forefront of the musical image, but then the guitar riffs fly away into rapid zeal, the introduction of vocals anticipates a return to the pulsating mid-tempo march.
Painful guitar riffs end with howling notes that accentuate the rhythmic structure of the Zombie Kids composition, but before the introduction of the vocals, the music changes its rhythm, marching in a gloomy march raising the vocal phrases of a terrible fairy tale. The artistic musical passages of The Grudge instrumental composition are an intriguing introduction to the tough and hard drive of the Bulldozer thriller, which begins with the sacrament of a shamanistic ritual.
Reducing the pace of musical narration Failed Apocalypse envelops the listener with the gloomy horror of a dark anthem. But gloomy stories are transformed by a twist of a certain playfulness, as if the lord of darkness is entertained by some jokes, filling the mind with If I Was Satan sparks of fun. Wrong Song completes the album with the unity of the mid-tempo march and shades of folk ballads.