September 17, 2022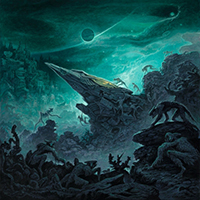 Full of intriguing mystery, the guitar solo weaves the lace of the introduction of The Dead World composition of the beginning of the Becoming The Archetype - Children of the Great Extinction album with variations of musical and vocal stylistic diversity, then rolling in waves of The Lost Colony dark anthem, combining vocal styles in fascinating significance, alternating clean vocals and growling in the foreground of the musical image.
Compositional variations of music and vocals are progressively intertwined in the mesmerizing musical canvas of The Remnant epic saga, continuing these stylistic shades in the twilight musical grandeur of the introduction, fiercely and condensing with notes of drive the sound of The Calling symphony with the introduction of vocals, sometimes enveloping vocals chorales with covers of symphonic charm. The musical passages of The Phantom Field instrumental composition, introducing shades of medieval bard ballads with acoustic guitar solos, acts as an introduction to The Awakening epic saga, which is then transformed using the motifs of oriental folklore in its sound, then introducing elements of drive into the musical expanses, continuing with the unity of melody, rage and symphony in The Hollow composition, varying tempo and stylistic directions and fascinating musical unity with vocals transformations - from furious growling to inspired chorales of musical companions. The dreamy artistic guitar solo of the instrumental part crowns this musical artwork with its melodic charm.
The intro's guitar solo weaves the mesmerizing mystery of The Ruins (feat. Ryan Clark) song's sound, complementing the dominant vocal part with a charm of musical variations. Persistently, rhythmically and meaningfully, The Curse march confidently and impressively hammers its steps into the chosen musical path, anticipating the development of the twilight musical mystery of The Sacrament final symphony, which completes the musical narrative of the album.