May 18, 2023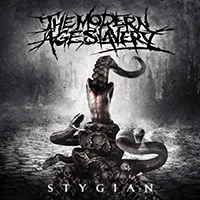 The unhurried procession and musical mystery of the Prelude to an Evolution musical introduction sets the musical motifs and shades, then soaring in the furious whirlwinds of The Reprisal Within composition, continuing the The Modern Age Slavery - Stygian album and transforming into a rhythmic march with the introduction of vocals, however, then again and again transforming and varying the rhythm and tempo of the sound with the addition of other artistic musical variations.
The intriguing introduction brings the influence of oriental motifs to the sound of the Miles Apart song, then rolling in unstoppable waves of powerful drive, but again and again bringing the drum roll of a military march and the mysterious charm of oriental motifs. The Theory of Shadows musical tale begins with the enigmatic vocal grinding of the narrator, then more and more captivating into the intriguing mystery of legends and fairy tales, combining vocals and music in a joint artistic charm.
Immediately rolling out the musical canvas of the main motif, The Place We Call Home song weaves the lace of its sound from the unity of vocals and musical components, then bringing notes of the title of the album to the twilight solemnity of the sound of A Stygian Tide epic saga, combining symphonic musical charm with background chorales in the introduction, but exploding with whirlwinds of fierce drive with the preservation of symphonic influences.
After a brief introduction, the vocal part announces The Hollow Men title, then the progressive guitar solo anticipates a further variety of stylistic and genre variability, culminating in a mesmerizingly complex and progressive musical development of the Regression Through Unlearning musical composition, complemented by a muffled vocal mystery, sometimes coming to the fore in the twilight musical fairy tale that precedes the end of the album with the frenetic sound of the Sandblasted Skin (Pantera Cover) musical thriller.