April 01, 2018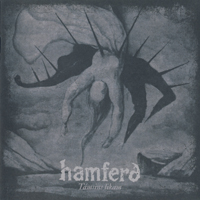 So soft and thoughtful Fylgisflog instrumental introduction envelops with the atmosphere of unhurried reflections, which are then supplemented with vocal questions, asking more and more questions leisurely and meaningfully. Then the dark entities bring the elements of rage and severe growling into the sound of the composition - but again and again the pure vocal brings its desperation to the fore, tearing the beginning of the Hamferð - Tamsins Likam album with worried experiences.
Mysterious mystical legends are enveloped in the dark haze of obscure alarms, humming with the invisible choruses the mysterious shadow of the Stygd intro. Then a deep growling vocals is enveled by the whirlwinds of enchanting spells, causing the emotional essence of the clean vocals, indulging in exalted dreams. The composition smoothly flows into the next, combining the outro with the Tvistevndur Meldur intro. This composition is based mostly on the main motive, not deviating from the leitmotif to the side, but developing it into a more complex and exciting musical image. But similar alternations of severe, condensed growling and emotional sensual clean vocals are observed here, supplementing the harsh meditations of the reflecting sage, uprising his confessions and memories to the skies.
The gentle romance Frosthvarv begins with vivid experiences embodied in reflections of clean vocal, enchanting with its sensual depth and touching experiences. In the final segment, the composition somewhat thickens the depth and darkness around, supplementing the sound with dark shades, but ending in the same dreamy manner.
Hon Syndrast continues the restrained haze of darkness, as if enveloping in a dark atmosphere - as if changing the parts of the composition: beginning with a restrained growling, completing the composition with an emotional clean vocal wrapped in a toga of sublime musical passages.
It should be noted that the album is integral and one - the gap between the tracks is invisible, they seem to flow one into another. This monolithic artwork is completed by Vapn I Anda composition that rallied in itself all the features of the previous - beginning with a mild acoustic introduction, further raises the epic nature of the legend over the well-known limits.