November 10, 2021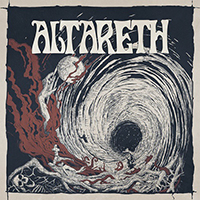 The dreary desolation of lifeless twilight begins the Altareth - Blood album's musical narrative with the title track, amplifying the twilight anxiety of the musical passages with mournful vocal phrases, quite embodying the atmosphere of despair and doom inherent in this musical style. The Satan Hole song immediately heralds its title, then marches gnashingly with outrageous guitar riffs in a persistent procession of twilight march under the banners of the dark anthem.
After a melodic guitar solo, the Downward Mobile music comes in waves of unyielding dusk, complete with distorted vocal reflections. Then the vocal part embodies desperate pleading and wailing, crying out for support and help. Once again, the soft guitar solo of the Eternal Sleep introduction creates an intriguing mystery, then develops into a denser and harsher development of the musical motifs set forth in the introduction.
The guitar solo charms with melodic mystery, then combines with the vocal duet in the sound of the twilight romanticism of the Moon ballad. The High Priest creates with its procession an atmosphere of unyielding grandeur, indicating the unreality of refuting his claims and the tenets of his sermons. The Empty song concludes the album at its longest, preparing the listener for the introduction of a saddening vocals confession.