August 05, 2019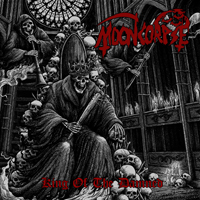 The chime of guitar strings spins a circle of the Death March (Awakening) instrumental saga in which saddened minstrels give rise to the narrative of the Mooncorpse - King Of The Damned album. Further, saddened Legion Of Night vocals reflections give the musical narrative shades of pensive sadness and saddened wisdom.
The musical limits of the title composition King Of The Damned are revealed by the herald reading the announcement. Then the bard saga takes us to the open spaces of medieval realms The croaking of ravens and the rattle of an open gates continues with The Graveyard saddened vocal narrative, the music follows the background atmosphere.
Soft and mesmerizing chimes of guitar strings envelops pensive Wretched Queen vocals phrases, weaving the sticky shawl of ancient legends. The muffled acoustic guitar solo with the background tinkling sound of a castanet continues with an epic narrative of Dragon Of Chaos knightly saga singing the exploits of dragon fighters.
Thoughtful thoughts intertwine in the twilight foggy doubts of the Ouija bardic ballad. Screams continues the musical canvas of the album with a ghostly fog of doubt and obscure reverie. Death March (Ritual) concludes the album with a muffled drum beat and the mystery of distant winds.