July 20, 2020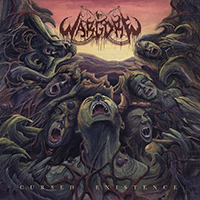 The mysterious twilight of the intro ends with a drum roll with a vague whisper in the background, then the guitar solo brings its own flavor to the development of the Wargore (BRA) - Cursed Existence album's title composition, exploding with the introduction of muted vocal phrases with furious drive, muffling it in bridges and choruses. Maintaining the twilight mystery of mystical bewilderment, the Visions Of Pain rolls in waves of harsh drive, entwined with shades of a dark anthem.
Pulsing rhythmic bursts of drums and guitars together in intro Like A Fetus then explodes into an accelerated race of unbridled musical fury with vocals introducing. While retaining its dark mysteriousness, the Feeding The Dead transforms into a furious musical thriller, leaving a harsh vocal narration on the verge of screaming and growling against the backdrop of a musical image. The Cotard Delusion continues the unrestrained zeal of musical fury, summing it up with musings of musical reflections and somewhat slowing down the pace with the introduction of vocals in a leisurely round dance of musical twilight. Keeping the impetuosity of the musical drive, the Cocaine transforms the rhythmic component into dimming bursts, sometimes exploding in vortices of acceleration.
Bringing artistic mystery to the transformation of musical laces, the Coexisting Gears retains fury and power despite the tightening of the musical tempo. The Endless Grief again returns to irrepressible zeal, sometimes transforming the musical narration into a march of a dark anthem. Finishing the album with unexpected rhythmic variations and tempo changes Raped leaves notes of mysterious charm.