August 03, 2020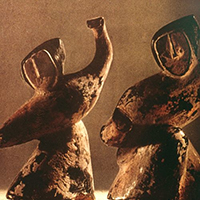 The acoustic pensiveness of A Thin Membrane (Acoustic) song creates a certain mystery, continuing the Horrid Red - Who Made the World? album with futuristic pulsations of I'm Terrible, Terribly Hurt composition, leaving the vocal part against the background of musical futurism of electronic impulses. The Sand in the Urn (Late Night Prague) retains the electronic echoes, but dispels the musical darkness, bringing emotional vocal inspiration to the forefront of the musical image, complementing them with echoes of musical mystery.
Slowly and thoughtfully developing the musical basis of the main motive, then the Who Made the World (Human Rooms) title composition slowly and meaningfully prepares the vocal part for the introduction, which after leisurely reflections rises to the top of the musical image. The Where Are the Bluebells (Where the Garden Grows) complements vocal reflections with a vague chime.
Epic Afterdreams (Far Ver) echoes end with dancing echoes of cosmic currents and inspirational vocal reflections. After muted vocals reflections, the Kamel Lights captivate with the sound of a saxophone solo. Dancing importance of the Afterdreams vocals phrases, combined with saxophone tunes, rounds off the album with whimsical romanticism.