December 31, 2017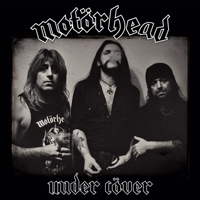 This legendary band often reinterpreted the songs of other performers, feeding them in a peculiar manner in their own performance. A compilation of such creations composes Motorhead - Under Cover album of cover versions.
More dense, confident and tough performance Breaking The Law (Judas Priest) consisting primarily in a different vocal delivery begins this album.
Rebellious, cheerful and laughing original becomes sterner, performing God Save The Queen (Sex Pistols) in a more powerful and restrained version.
Soft, sensual composition maintains romantic mood of original version of Heroes (David Bowie) song, the vocals do not block the dreamy reverie of the musical pattern.
Very similar to the original in sounding Starstruck (Rainbow) retains all the features, but it sounds more rhythmic and harder. The song, a cover on which a fairly general theme, which was a soundtrack to a very famous cinema Cat Scratch Fever (Ted Nugent) was performed also in the recognizable manner of this band.
Legendary bands always have a lot of fans and fans, but some of them also become legends that give inspiration. The next block of the album of two songs is a reflection of this phenomenon. Jumpin' Jack Flash (Rolling Stones), Continues and completes this block Sympathy For The Devil, in a playful form similar to the original, giving an interpretation of delusions. By the way, because of the title of this song and its text, the Rolling Stones had so many scandals.
Ozzy OsbourneFor the perception of Hellraiser(Ozzy Osbourne) Ozzy and Motorhead fans "rushes with slippers at me". The first - for the simple reason because I think that this song is much better than the original, the second - for the one that I think its the best song of this band. A playful and cheerful song Rockaway Beach (Ramones) is supplemented by the dense, harsh and tough vocals of Lemmy, which is usual thing for this band, creating a peculiar contrast.
The desire for freedom and opportunities, glorified in Shoot 'em Down (Twisted Sister), is presented more densely in a less playful manner. What to say - the legends have sources of inspiration, from which they draw ideas. However, they have followers - Whiplash (Metallica) displays reinterpretation by the source of inspiration artworks of their heirs..