February 22, 2020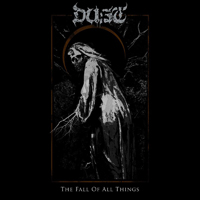 The twilight shackles of musical narration which is starting the Dust (DEU) - The Fall Of All Things album are rolled in waves of gloomy grandeur, slowly and meaningfully marching with a dark procession, complementing the musical narration with vocal emotions, preserving the grandeur of the Shattered Existence dark anthem, introducing hidden whirlwinds of thoughts and secret mysteries of ideas into the instrumental bridges, interlacing the solo and bass guitars with the artistic lace. The guitar solo of the instrumental part comes to the forefront of the musical image, exalted by the harsh and deep motives of the bass guitar.
While preserving the twilight atmosphere of the musical narration, Cloak of Silence speeds up the tempo for a while, overpaying the musical accompaniment with vocal phrases in the dance of the musical composition, varying the tempo and rhythmic structure from time to time.
At first, the bass guitar solo pumps the depth and significance of the narrative, complemented by the pulsating heartbeat of the drums. This builds the castle of the Undying Ember main motive, in which the essence of the vocal narrative is manifested, interwoven with the musical covers in the mystical charm of the inspiration of a gloomy fairy tale. The final of the composition explodes in the unbridled fury of the guitar solo, turning into a protracted and prolonged spirit of the To Bear Misery funeral procession, marching in painful grandeur, leisurely and painfully singing the lost memories. The guitar solo of the instrumental part introduces some shades of saddened romance, setting the course for the further development of the instrumental narrative, in which even oriental motifs are manifested. But then the song returns to painful reflection.
The title track The Fall Of All Things completes the album, further escalating the veils of sadness, enveloping vocal reflections with the burdensome paths of a sticky musical narrative.