August 18, 2018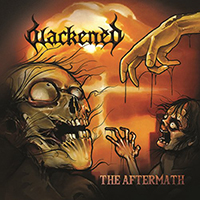 A creepy screeching screech, screams and anxious expectations ends Intro with a dialogue between a man and a woman, continuing the Blackened (FRA) - The Aftermath album with an unrestrained drive, combining Empowered harsh vocals with dense and persistent guitar pressure, pumping on the listener with meaningful waves of vigorous sound. In the instrumental bridge, the sound casts off swiftness, focusing on rolling waves of a severe march. But these reflections end with a rapid impulse, which raises the guitar solo to the cutting edge of the musical image.
A Haunting Night intro pulsates with a dense and unhurried march, bringing the notes of heraldic tunes with the introduction of the vocal, but then the guitars are preparing preparations for the impetuous impulse, taking away the vocal phrases in the speed race for incredible graces. But then the vocals call for the viscous sound of the introduction again, crowned in the instrumental part by a charming melodic guitar solo. But again, unrestrained fury breaks the deterrent fetters, and puts the fetters around an energetic guitar solo embodying unrestrained fury and melodic inspiration unite.
The furious energy radiates comprehensively, Dead End unrestrainedly and frenziedly waves the waves of dark drive, completing the pulsating passages of the logical parts of the composition.
The title track The Aftermath continues the album, majestically and unhurriedly setting a significant atmosphere of its intro. Then the vocal narration is bogged down in a dark, viscous musical waltz enveloping the vocal phrases with a gloomy haze. But the guitar solo in the instrumental part calls for the development of a vigorous drive, the vocal initially resists, but lends itself to urge and is carried away in a impetuous impulse, returning however to pulsating reflections.
Rejecting the variability and variations, The Dark Side is carried away in a furious wave of unrestrained drive, accentuating power and energy with vocal phrases and inflating musical urgency with instrumental inserts into the composition structure. Majestically and meaningfully entering, epic motives continue to enter melodic delights, transforming into the trends of ancient fairy tales, but with the introduction of the vocal the last composition of the album Twisted Mind seems to continue the previous one, sweeping away in an uncontrolled race of disorderly energy, crashing all around with a frantic drive.