May 17, 2021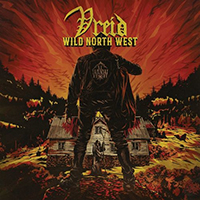 The title composition begins the Vreid - Wild_North_West album with the intro of the symphonic organ solo, then fascinating the unexpected unity of the theme of the wild West and the melodic black metal, which usually elects the subject of the ancient fairy tales and mystical mysteriousness of the gloomy revelations. The Wolves at Sea continues the musical history of pirated legends, adhering to the same gloomy stylistic genre feature. The guitar solo of the instrumental part enchants the sage's thoughtfulness in a leisurely melodism. The Morning Red track sounds as a saddled ballad, transforming at first a demonic screaming into the muted reflections of clean vocals, the loan is complementing the main vocal with a background patience, after the guitar solo returning to screaming vocals.
The melodic guitar suspension enters into artistic thoughtfulness, on the then pulsing drive anticipate the entry of the vocal running with the support of musical warliness to the implementation of the sound of the Shadows of Aurora song. Music and vocals are wangling in the unrestrained vortex of irrelevine unity, smyster and destroy any obstacles on the way of the Spikes of God track's sound.
It is significantly alleviating the sound and giving him some sounds of southern rock, the Dazed and Reduced only in the final part complements the clean vocals with restrained screaming. The Into the Mountains returns to the stylistic orientation of the album, but keeping melodious artistry in the sound of music and complementing the main vocal of the singing lady in the chorus. The Shadowland completes the album full of mystery of twilight symphony.