April 18, 2018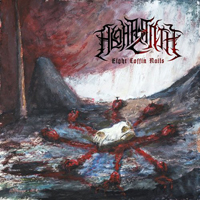 Filled with sadness and anxiety, the Self-Exiled story begins the conceptual saga Alghazanth - Eight Coffin Nails first with a thoughtful twilight mist of ballad reflection, then developing the main theme into a wave of dark drive.
Continuing in the same atmosphere of anxiety Facing the North sets up a readiness for obstacles, tests and severity of northern conditions - in the north, there are short-lived weak bodies and minds.
The significant and sophisticated narrative develops the Aureate Water main motive into a furious drive, supplementing the influence of classical music - charmingly in an epic sounding setting the musical style of the solemn march, from time to time carried away in a rushing drive or by adding chorals to mystical fairies.
The dull stream of an obscure drive carries away from the usual expanses, rolling in swift waves, enveloped The Upright Road music in bright melodic guitar passages. With the introduction of the vocal music immediately slows down to the solemn anthem, then carried away in the stream given in the introduction.
Immediately showing the rapid character of the At Their Table main motive is carried away on the waves of unrestrained drive, supplementing them with melodious notes of the guitars and keyboards.
Melodic atmosphere immediately captivates the exciting The Foe of Many Masks sound, combining the marvelous motifs of guitar passages and keyboards, changing the rhythm of the composer's sophistication, complementing its majestic melodic shades of vocal phrases.
Bright melody in average tempo captures the mind with its sound, the Twice Eleven vocal picks up the tempo, in the instrumental part the composition turns into a symphonic ballad, turning back in the final segment.
PohjoinenThe epic instrumental saga majestically and unhurriedly unrolls its melodic covers, enveloping the spirits of ancient legends and forgotten fairy tales, bringing back the memory of blood to the upper level of perception.
To Flames the Flesh completes the concept album album, combining in its sound all the features of the songs entered into the album - starting with a proud valiant march, wrapped in a symphonic saga, then from time to time carried away on the bright wings of the drive in instrumental bridges.