July 24, 2019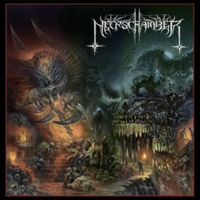 The instrumental Death's Salvation haze of the organ passage fascinating with mystical mystery begins the Necrochamber - Ceremonies For The Dead album, continuing with the Lord Of The Deceased song's furious drive, weaving an incredible canvas of aggression, power and melody.
Together with the previous composition Void Of Infinite Darkness continues the gloomy drive, transforming the rhythmic pulsation of a harsh metal drive into a kind of mysterious vocal narration, shrouded in covers of twilight musical rage. Self-titled song Necrochamber continues the musical extravaganza with the furious inspiration of the main motive, which carries off in an unrestrained flow of exciting musical variations, twisting vocal reflections.
The title track A Ceremony For The Dead is fascinating with a charming melody that enthralls you into the world of dark tempting and invisible spirits, giving shades of hope and mysterious promises. Carried out in the rampant race, Fleshripper gives the musical image incredible swiftness, vocal phrases give a dark meaning.
A brief moment of the organ sonata ends with a wave of impetuous drive, but the vocals call for the continuation of the Lunar Hallucinations musical narration in the mid-tempo march, but then the music accelerates the tempo and seeks to carry the listener with a powerful stream of drive to the dark greatness.
The variational tempo ends with vocal phrases at the forefront of the Black Wings And Demons Blood musical story, rushing in a rush through the invisible obstacles, fanned by epic inspiration and gloomy covers.
Severely and leisurely vocals produce a ritual of summoning the Rise Of The Phantasm demonic entity, unaware of the possible consequences. Return Of The Ancient Ones completes the album with an incredibly impetuous drive, as if in a hurry to get rid of darkness and malice, shrouded in demonic shackles and black covers.