December 04, 2020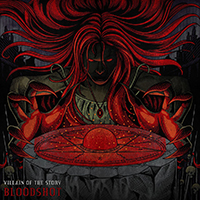 The unrestrained fury of screaming gives rise to the Enough composition, continuing with the mystical mystery of instrumental bridges, then complementing the furious screaming with harsh drive and notes of deep growling. Then the dreamy melodies of clean vocals bring their influence to the vocals part of the first track on the Villain Of The Story - Bloodshot album. The Labrat (Feat. Tyler Tate) enhances the mystical mystery of the instrumental bridges and weaves screaming and growling into a single vocal stream, then uplifting the inspirational tunes of clean vocals with a part of the guest vocalist's harsh vocalls.
The title composition Bloodshot weaves the inspirational melodies of clean vocals and the harsh exhortations of growling into the artistic musical lace of the solemn anthem. The Stuck captivates with gentle tunes of clean vocals entwined with the atmosphere of a romantic ballad, after which the Burn The Foundation song explodes with a rapid whirlwind of drive, combined with the unity of screaming and growling in the verse, retreating to the inspired tunes of clean vocals in the chorus. Then, before the final chorus, the rage, drive and melody are combined into a single sound. In the instrumental part, symphonic tunes further expand the stylistic framework of the musical composition and album.
The harsh procession of the True Obsession twilight intro reinforces the mystical mystery, retreating before the tenacity of the rebellious vocals, but then rising from the background with dark enigma. The album ends with epic romance, which begins with the inspired narration of the Something To Feel ballad and ends with the soothing sound of the Breathe final song.