August 26, 2020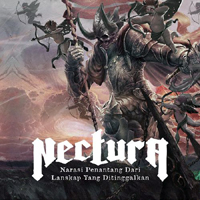 Muffled electronic impulses twine a mysterious lace of obscure haze, sparkling in the Bless Nectura II twilight of mysterious obscurity, sparkling notes of a keyboard symphony, complemented by muted vocal emotions. But the Kultus immediately announces song's title, continuing with the furious drive of an unrestrained musical thriller the sound of the Nectura - Narasi Penantang Dari Lanskap Yang Ditinggalkan album with impetuous jerks, imparting some viscosity to the vocal part, slowing down the tempo of the musical narration in the verse, but intertwining with the instrumental parts in the swift blade of the chorus.
Twisting a round dance of guitar riffs around vocal part the Setara constantly varies and creatively transforms and complicates the rhythmic structure, bringing unexpected musical solutions. Drum rolls anticipate the unbridled swiftness of the Tirani Mati musical thriller that combines the deadly blades of musical drive with vocal meditation. The guitar solo introduces a certain romanticism, but then the Jalang Terbuang song's sound combines a fast drive and fragments of meditation, restraining musical passages in vocal fragments on the verge of a mid-tempo narration, exploding with a swift whirlwind of drive in the bridges preceding the chorus.
The Sang Penantang intro guitar solo anticipates the verse's rampant drive, returning to its sound in the chorus after thinking about the bridge leading up to it. Drum roll anticipates the development of the harsh reflections of the guitar solo, somewhat lightening the sound of incredibly compressed and dense vocal phrases, elevating the guitar solo to the top of the Narasi Basabasi musical image. The Kawan Bukan Lawan sets an endpoint the musical narration, alternating a complicated rhythmically progressive verse with the rapid eddies of instrumental bridges, connecting fragments of the composition with artistic unity.