November 21, 2018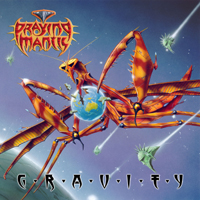 The choral chants that repeats Keep It Alive title again and again, create the impression of some sect's church chorals, but then the guitar passages and vocal part brings freedom-loving influences, revealing the true guise of the Praying Mantis - Gravity album. But the sound remains easy and fun, again and again emphasizing the name of the composition.
The introduction slowly and significantly rolls up the majestic passages, then the vocal slowly and solemnly lifts the experience in a verse, elevating to the full the essence of Mantis Anthem in the chorus.
Scattering the thoughtfulness and concentration of the Time Can Heal song, first creates a plot for inspiration, then is carried away in a light and serene atmosphere of hope and confidence in the future graces.
Intertwined electronic pulsations appeal to the 39 Years main motive that fascinates and fascinates, the vocal part complements it with emotional experiences.
Title track Gravity begins with a solo bass, then develops into an incredibly melodic guitar passages vortices. In a verses it fades into the background, freeing up space in the musical image for the vocal, combining with it in the chorus.
The Ghosts of the Past introduction envelops mystical haze, creating epic spaces for the further development of the composition, then the music condenses the sound, preserving the epic style of the introduction.
Introduction of the Destiny in Motion envelops with a pile of memories and romantic haze, then the music brings a wave of mid-tempo drive, reading sparkling ribbons of guitar passages.
Fascinating by the tenderness of acoustic musical breaks The Last Summer develops into a calm and soft ballad, bringing the vocal part to the forefront of the musical narration. Foreign Affair continues the ballad style of the album, complementing the romantic musical passages with the experience of vocal phrases, experiencing lost opportunities and lost ways of making the necessary agreements.
Despite the sad title, the Shadow of Love composition from the intro throws a wave of cheerful drive, somewhat calming the sound with vocal phrases and anticipating the chorus with encouraging questions, the answer to which in the chorus enhances faith and hope.
The final composition of the album Final Destination begins with an intriguing introduction, then diverging into the background and building a musical basis for vocal experiences.