December 18, 2021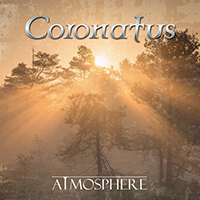 Symphonic Intro opens the gates of the Coronatus - Atmosphere (CD 1) album's musical narrative, foreshadowing the melodic charm of the Justice In The Sky song, in which the musical charm is complemented by vocal emotionality. The vocal duet immediately foregrounds the musical image of the To The Gods Of Wind & Sun composition, bringing sparkling swirls of folk motifs to the instrumental bridges.
After dancing around with country-style echoes in the verse, the Firedance song creates a very distinctive sounding chorus from the vocal roll call. The Distance soft and gentle romantic ballad charms with a din of musical symphonism and vocal sensuality.
Echoes of medieval minstrel ballads combine with energic Williwaw vocals proclamations. Immediately accented by the title, the Time Of The Raven epic saga develops the musical style of ancient tales and proclamations of prophecy and omens. The Swarm develops a similar musical style, as if transported to an inn and drawn to wander through the inscrutable remoteness of times and lands.
Entering with a bass guitar solo, the Keeper Of Souls track then crowns the musical sound with the tones of a violin lament. The Big City Life song completes the album with some changes in sound from epic medieval to brooding blues and lounge. But this release complements another musical artwork - the Coronatus - Atmosphere (CD 2) contains instrumental versions of the compositions presented on the album.