June 18, 2016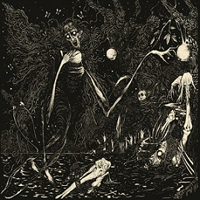 Heavy, complicated by anything breathing while running Into The Gyre opens
The Wakedead Gathering - Fuscus: Strings Of The Black Lyre artwork for the further events.
Powerful, rapid entry of the Blood From The Earth passes in an aggressive growl and powerful accompaniment of the average rate, which is periodically interrupted by melodic inserts. After such a violent attack, melodic riff occupies the sound space, and it seemed - that it will be at the forefront of instrumental solos. However, rage and anger still push it, come to the fore. Then calm monologue, and again - anger and wrath!
Bass guitar dominates in the entry of the Deepwoods Nonesuch, later its main role conceals guitar and vocals, not hiding it in the backyard. The bridge between the verses is a short guitar solo. After a few verses pace constantly varies - from the vicious and violent speed up embittered and powerful sluggishness!
Organ organizes the beginning of the Amnioticysts, then guitars compete with each other, then their competition connects vocals, slowly at first, then accelerating guitars contest to high speeds. The bridge returns guitars to the average pace. Instrumental guitar passage leads to a slow pace, which vocals is trying to resist. And achieves furious rapid response of guitars rage.
Visco, mysterious, intriguing begins Lungwort with the introduction of a vocal composition accelerates 'till the instrumental part, that flows slowly. Next piece of the track performed in average pace.
Vocals begins immediately destroy all obstacles, slowly but steadily, The Harrowed Column moves inexorably on its way, with confidence and without interruption. Slightly accelerated in the instrumental parts and the middle of the composition, and then back to a slow pace.
Lit the fire, the trees bend under the drawling, gaining volume and power guitar riff - so sound the intro of the An Ancient Tradition. In the melodic and dark instrumentalchronicle of ancient customs and ancient traditions vocals adds its narrative. This long, tight, fascinating story finished by the evil witch laugh. And the artwork ends.