April 20, 2021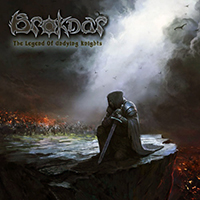 The title composition begins the Brokdar - The Legend of Undying Knights album with acoustic shades of bard's fairy tales, then combining the shades of the sound of medieval sags with a fierce swirl metal drive and the vocals fury of the unrestrained scream-growling vocals.
Vocals, lints of harsh saga introduces an extension of heroic legends and combines with tight waves of musical rage, while maintaining the mid-tempo rhythm of the Let the forces awake musical fairy tale, sometimes accelerating in the racing of the unrestrained drive.
Guitar solo sets the path of the Ready cause alive main motive, somewhat accelerating in the ranks of musical waves with the entry of vocals. The mid-paced battle march Time for ordeal are complemented by the shades of the ancient legends and the sonorous urges of guitar solo and melodic variations that accelerate the musical pace with the entry of vocals, combining metal drive with notes of minstrel ballad.
Music and vocals are woven in the No hate for fate single musical stream of an epic fairy tale, the charm of legends. The Against the will continues such musical stylistics, gossip music and vocals in the fascinating dance.
Soft trends of musical symphony complement the wordless chologies of mystical fairies then combined with a restrained drive of the Hateful Gift metal fairy tale. After the intriguing intro, the No more song completes the album to the exciting unity of music and vocals.