July 13, 2017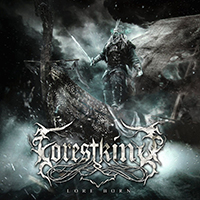 Epic intro Ond opens the way for music of Forest King - Lore Born album, combining symphonic keyboard passages with sublime chorus.
The militant, proud call For the Folk raises the main motive in the instrumental part, the verses consists of violent rushes and in the chorus the proud narratives.
Beginning with rapid musical motifs, trolls in various dances and amusements create coziness for their dens, scouring disagreeable people with Troll Stench.
Rapidly, briskly and hastily begins, Sacred Mead jumping trough the verses to the bridge between them. But in the chorus the story focuses on the basic thought, bringing it into sharp whirlwinds of short phrases.
The title track Lore Born, combines clear and measured march with whirlwinds of mysterious foggy motifs, complements that with the debate between screaming and growling vocals After a proud and inspired debate, in the instrumental part, the melody comes to the fore, capturing all the rest by its bright sounds.
Viscous riffs are shrouding in fog in the Heathen introduction, but then the rhythm breaks free, composing a sound from clear, confident and persistent beats, intermingling them with brief and mysterious breaks and phrases.
Restrained, assuming the ballad starts Roots to Rise, but then the thoughtful phrases are combined with sharp, fast instrumental parts, but the vocals do not cease to extol the memory of his clan.
Winter Within continues the style of the previous composition, again first in the tales of an ancient sage or disembodied spirit suggesting a slow romantic composition. But, romance and melody are not retreating, but the rhythm is harsh and impetuous The last composition of the album Who Will Write Your Saga? begins with a significant, proud riff, so confident in its irresistibility that it will be played on all sides and nuances. But in the bridge, the bass guitar part and kaleidoscope of vocal changes come to the fore.