April 17, 2017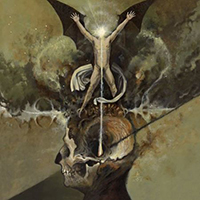 Mysterious, unexpected - but so interesting, adorable and charming musical spells creates the image Nightbringer - Terra Damnata for all of us!
Violent bursts of inopportune drive bring pleasant and captivating melodies on their impulses into the radiance of the sun's rays, enveloping the dark whirlwinds of their angry desires. Vocals combines and selects from clean, harsh, screaming and growling styles, from time to time combining several of them in a single musical image. The classic organ saga completes As Wolves Amongst Ruins fairy tale.
The main motive of the Misrule, the charming guitar passage, the enchanting magic melody pervades the whole composition with a sword of the leitmotif, rushing impatiently into the thick of the battle, then lowering the pace to slow, slow rolls, accumulating strength in a tired body and reasonable for the subsequent, furious rush ... which will happens in one of the next compositions. Midnight's Crown begins confession wise elder in the past deeds, then the phrases are combined with instrumental rabies releasing ancient spirits and mystical ghosts. Then the rhythmic structure is complicated and various, surrounding with the tales of senile wisdom with the changing vortices of a variety of musical decisions.
The fog of mystical ancient legends envelops the dark mist of forgotten legends Of The Key And Crossed Bones, that envelops with the fog of mystical ancient legends dark mists of forgotten legends, carrying a leisurely rolling musical journey into the past adventures, black knights and shining with fiery sparks Dragons.
Delicate and comfortable keyboard passages starts Let Silence Be His Sacred Name - then are replacing with so fierce rush, rushing into a brutal and uncompromising battle. It was for such a spiteful tough power that forces accumulated ... but this cruelty suffices for a short while, it is replaced by a weary, thoughtful outcome in gloomy reflections. Before the next furious impulse with the similar finish!
Starting with a leisurely, viscous narrative Inheritor Of A Dying World carries in this confident teaching through a veil of gloomy dark fog, carrying in a gloomy and burdensome restrained position, enveloped in the burdensome tales and gloomy vocal phrases of a wise old man. Next, after a short guitar solo, music speeds up in impulsive, changeable rushes, completing wise predictions in a fast, swift manner... but slow rolling returns to finish the prophesy.
Ancient tales in Latin, entwined with the melodies of mystical spirits begin a fairy tale about The Lamp Of Inverse Light continuing all the time, a long, fascinating and attractive tale.
Fascinating, diverse and exciting track completes the album, surrounding the axis of the main motif with vortexes, circling in the changing tunnel of imaginary reality enlighted with the Serpent Sun rays.