December 30, 2021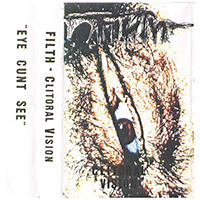 Hidden background conversation in the intriguing intro supplemented by background chants sets the beginning of the musical narrative of the Filth (AUS) - Clitoral Vision album in the Janeckore track. Creepy and frank confessions set up the Lickity Splits intro to the Tissue Love Box song in which a distorted vocal scratch complements the dense and insistent musical drive.
A swarm of insects buzzes in the sound of the More Fun Than Fucking A Beehive track, culminating in an explosion of frenetic drive, continuing the musical narrative with a fierce and harsh Celebrate The Filth mid-tempo musical thriller. A playful proclamation sets up the intro of the Chocoballs track, accentuating the title again and again in the vocal part of the chorus, then retreating before the mesmerizing alternation of screaming and growling in the vocal part, accentuating it with the ending in the Fill The Sock vocal story.
The vocal meditations are followed by the dense and visceral sound of the S.S.M-Period Party track, in which further vocal meditations are entangled. The rhythmic mid-tempo musical sound intertwines with the Slutbait vocal part in a mesmerizing dance that takes you to the expanse of dreams. A reinterpretation of the Vulgar Taste (Bloodduster Cover) musical artwork that inspires the band to make musical discoveries in their creativity completes the album.