October 22, 2018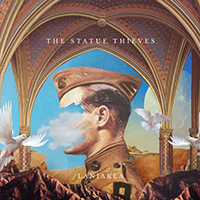 A brief introduction appears as the title track of the The Statue Thieves - Laniakea album, commemorating the concept of a brooding narrative, fully developed in the next composition Why'd Awake Heart by the appearance of a romantic gloomy reflection with blues notes and the influence of saddened romanticism.
Developing a discreet brooding style and bluesy background 12-Page Letter song complements the album with a pulsing rhythm that rolls the musical path for vocal phrases.
Romantic reflections envelop the mysterious atmosphere of unclear expectations, raising in the 37th Floor chorus hopes for future events, complementing this with marvelous melodic delights.
Continuing the romantic atmosphere, Sweet Valley Midnight complements the album with obscure guesses and mysterious omens, entangling thoughts with twilight doubts.
Disturbing pulsating rhythm dancing Between 3 & 7 waltz with vocals, circling in a mysterious dance among the cryptic mist and vague guesses.
The desire to break free from entangled doubts is woven into the 7-Sided Pyramid (Everything Is One) intro, completing with encouraging vocal phrases and waves of the fabulous epic of musical passages. In the instrumental thresholds of the couplets, progressive musical ideas emerges. In the chorus, vocals soar in emotional outburst
Pacing with a dancing intro and verse the Jacob's Well song develops the main motive in the chorus definitively, bringing the vocal part to the forefront of the musical image and complementing music with the background vocals.
Romantic thoughtfulness envelops you with slow, dreamy reflections, raising your feelings high into the So Much Trouble choruses. Surpass (I Can Feel) completes the album, complementing a thoughtful muffled romance with echoes of mysterious fairy-tale fairies and wrapping it with epic motifs in the instrumental part.