September 01, 2018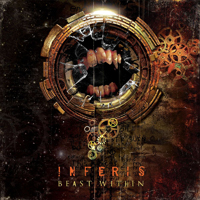 The gloomy twilight starts the Inferis (Chl, Vina del Mar) - Beast Within album with disturbing motives, the vocals brings an experience to the sound, encouraging and predicting future tests in the bridge and introducing readiness for battles and feats in the Dead Inside chorus. The waves of the drive condense the sound in a majestic introduction, then the Farewell vocals gives a jerky character, rising and falling in their phrases. In the chorus, the composition complements the shade of epic romanticism. After that, the music is carried away in a fast-moving stream of harsh drive, then enveloping inspirational vocal moods before the next chorus. In the instrumental part, the romantic ballad brings the fascinating guitar solo to the forefront of the musical image, culminating in an inspired chorus. The charming ballad continues the musical style of the final chorus of the previous composition, but the nervous vocals in the verses broaden the stylistic framework, but in chorus the Mask returns to romantic reflections.
Pulsing rhythm beats precede a tough wave of harsh drive, vocals begin with an awesome squeaky whisper, then rise in heroic phrases stating Messiah readiness to fight any danger that heroically ascends to the peak of the chorus.
The title Beast Within track breaks the musical limits with so furious scream, then weaving into a melodic composition a romantic ballad in the chorus and a convulsive harsh vocals in the verses, which, together with the drive, which complements the composition with metalcore influence.
By focusing on reflections on How To Live question, the vocals complement the composition with the twilight of semenes, dissipating in incredibly melodious bridges and returning to the choruses.
The stream of drive through the twilight fog, is carried by the cautious and disturbing wind, twisted with ornate guitar passages. In the chorus, the Steps Of Sorrow music turns into a pensive romance.
Starting track as rolling by pulsing march, next vocals makes the romantic epic mood, then music is returning to the motives of introductionin the To My Kidnapper chorus. In the final compositions, the romantic atmosphere begins with the mid-tempo fascinating Revenge, enchanting melodious guitar solo in the instrumental part and turning into a fascinating ballad in the chorus and ending with an incredibly melodic romance War, bringing keyboard passages to the forefront of the musical canvas.