January 05, 2019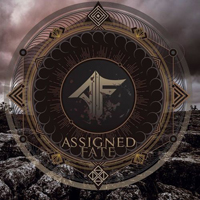 Mysterious omens anticipates the development of the Idiocracy track of the Assigned Fate - Assigned Fate album, then alternating vocal appeals between screaming and growling, juggling these changes in the enchanting symphonism of musical incarnation.
Deceiver's vocal sweeps the impetuous shroud of the drive, showing a lot of entities - rage and fury at the beginning, then the epic narrative of a brooding tale. It should be noted that growling completes. but the screaming trends either remain in the background, then growling phrases with the sparkling tapes of their connections. The throbbing rhythm of the Drop Your Mask intro sets the style of the main motive, shrouded in an epic haze of fairy-tale narration and intertwined with tapes of changeable vocal narratives alternating between screaming and growling.
A wave of frantic drive sweeps away experiences, but pulses in the shadow of doubt. Then the Chemtrails vocals calls the waves of the gloomy march, but the gloomy dance of the drive returns again and seizes the musical twilight. But the epic tale of the chorus fascinates with an enchanting sound, as if elevating perception to other levels of awareness, then rage and power further complement the sound of the composition. The guitar solo of the instrumental part discards years, ages and eras - returning to the unforgettable fabulous expanses, completing the composition.
The bass guitar solo begins to thoughtfully, mysteriously, The Pit intrigue. But after the song, it's not so easy to play it. instrumental bridges with a marvelous guitar solo complement the sound with charming melodies, weaving together all these musical streams in the chorus.
The chainsaw introduced personifies the Chainsaw Licence title, then the intro somehow expands the stylistic framework of the album, then weaving together several styles and genres together.
Beginning with a furious drive, continuing with rampant rabies against the background of the Time to Rise composition, epic motifs are guessed fully manifested in instrumental solos, revolving with wistful Oriental motifs in the finale.
Entering with a fierce wave, intertwined with thoughts and doubts, The Confessional song interweaves charming thoughts and impels the musical the canvas follows the vocal part, transcribing the compositional image with a charming melody in the instrumental bridges and chorus.
Mysterious anticipation of epic anticipation confuses thought and reason, then Forget Your Hate becoming embodied in a dance of hard and harsh motives, intertwining in a stream of fierce drive, leading round dances around vocal phrases.
The fascinating cloud of the Hangover main motive whips up the twilight flow over the harsh rhythmic basis, vocal phrases pierce this unity, reigning predominantly in the chorus.
Furious drive, irreconcilable rebellion intertwined in the middle-tempo pulsation, then This Day obeying the vocal reflections.
Religious appeals? Or a prayer for salvation? I do not know - but The Battle Hymn of the Republic song inspired your humble servant to live on!