February 13, 2020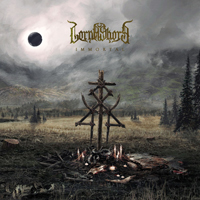 The title track begins Lorna Shore - Immortal album with obscure symphonic chorales, exploding with furious growling, entwined with a bewitching melodic mystery, continuing this unity with demonic screaming. Exploding with unrestrained power and rage Death Portrait creates a fascinating variation of vocal styles shrouded in mysticism of keyboard passages.
Transforming with background thoughtfulness, This Is Hell at first brings violent, swift screaming to the forefront of the musical narrative, then conjures fascinating thoughts with deep growling, then after the ritual mystery completes the composition, defining the outlines of mysticism, enveloping the musical lace of Hollow Sentence song, shrouded in background chorales.
Church tunes anticipate demonic exhortations crowning the musical narrative of Warpath of Disease song. Misery System continues the musical narrative with painful and viscous rhythmic pulsations, aggravating vocal phrases to an incredible depth. Raising the majestic banners of the main motive to the forefront of the musical narrative Obsession subordinates the remaining components of the musical essence to its ascension.
Extending the stylistic framework of the album somewhat, after an intriguing introduction, King Ov Deception is discharged by the rampant darkness of a black musical thriller. Darkest Spawn somewhat pacifies musical anger, alternating explosions of drive with pensive vocal reflections. Concluding the album, Relentless Torment embodies its musical variations in tempo and sound.