January 24, 2018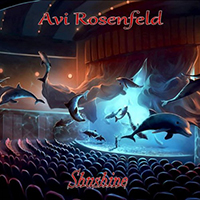 Album Avi Rosenfeld - Shushine performs many musical tones, starting with the playful and mysterious Dave From The Hood bringing the atmosphere of the wild west.
But the games with the lubrication of the Colts and the scalping of the killed Indians end with a memory of what awaits them far away in an unforgettable home shelter - therefore Jane Is Coming Home, wait and hope for it as well!
In connection with the name of the previous US president, this song Barak Barak, in addition to the enchanting solar reggae with wonderful instrumental delights, is perceived in a very peculiar way!
The title track Shushine musical image sweeps out previous musical ideas, the lounge is combined in enchanting dance with youth ideas of the 70s.
This performer preserves the supernatural worship of the creativity of some groups that created the basis for the development of the style - this romantic ballad Ride The Wind pays tribute to one of them.
Even more venturing into the atmosphere of the wild west Mother Mother brings the confession of a stranger, drawn by ribbons of violent delights, to his mother.
Well, the origins of hardrock always arguing about the founders - here in part they are all united in a common Balayla story, honors the defenders of the fatherland, bringing wonderful banners keyboards motifs enveloping the proud vocal phrases.
Latin dance, children's phrases, cheerful rest in the hot sunlight of the musical extravaganza envelops the hot rhythms Melafefeon Ve Gamba from all sides.
Charming tranquil ballads complete the album - meditations and assessments of the usual routine Zohi Shaat Lohamim begin, then a sensual and thoughtful story Gone Away, enveloped in marvelous violin passages, completes the album. The perception of songs is absolutely subjective, let the performer forgive me - but the last song is the best in the album.