March 25, 2020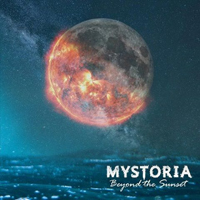 So intriguing Into the Light introduction fulfills the listener with mysterious expectations, musical waves rush with a rhythmic heartbeat, in which melodic notes of guitar solos bring sparks of artistic charm, vocal phrases fully reflect the emotional essence of the Mystoria - Beyond the Sunset album. Then the waves of severe drive, restrained within the framework of progressive musical sound and framed by bright guitar passages, envelop the All Night Long vocal narrative with mantles of majestic melody.
Impressions from wanderings with notes of gypsy romanticism elevates The Ship vocals phrases to the top of the sound. Restrained streams of stern drive drive stubborn waves of verses, exalting inspiration in the majestic vocal refrain of the Ascent chorus. The romantic inspiration of the vocal part comes to the forefront of the musical image of the Mystic Place composition, combining the pulsating sound of the southern rock with the romantic aftertaste of a romantic ballad.
The title composition Beyond the Sunset captivates with the soft sound of a delicate ballad, wrapping a romantic narrative about the past experiences. A medium-tempo march with a hint of heavy blues combines a certain gloom in the musical narrative with the mysterious inspiration of the Lost vocals phrases, encircling them with the covers of an epic tale.
Continuing the style of the previous composition, Color of Sound surrounds with explosive vortices of instrumental bridges explosions of incredible emotionality of the vocal part. The final composition of the album Last Day begins with a romantic intro, suggesting a thoughtful ballad, but then this romanticism alternates with medium-tempo fragments that take vocal trends to the top of the musical variations.