October 12, 2017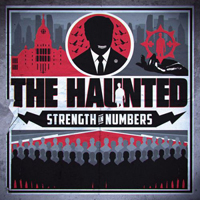 Romantically starting in an acoustic manner, the instrumental Fill the Darkness with Black introduction of the The Haunted - Strength in Numbers album turns into an interpretation of oriental folklore motifs in this musical style.
Power and energy Brute Force at first swiftly and unrestrainedly rushes along its musical path, eventually becoming a tough, shock-striking march. But after the instrumental part, again returning to the rapid sound, which precedes the final speech.
Mystical melodies after the Spark of a powerful instrumental attack turn into the main motive carrying a wave of furious drive, crushing all obstacles in its path. For a moment, the introduction comes back, but again turns into the quintessence of power and drive.
An incredibly furious and energetic wave of guitar riffs winds up its vortex of Preachers of Death sound, rolling forward with a rolling stream of musical power. In the choruses and instrumental parts, melodism comes to the fore, but the rolling power returns again and again.
Mysterious and mystical motifs are again embodied in the tirle track Strength in Numbers, concealing riddles in the dusky fog of a dense march, moving confidently to the impenetrable haze before the introduction of vocals, calling for a rapid leap Sharply and vigorously Tighten the Noose sweeps the musical pace to the top of impetuosity, blasting the musical canvas with vocal phrases. The viscous main motive from the very beginning winds the bands of the musical canvas, the vocal phrases follow the indicated path, the breeches and choruses show the notes of blues and sludge, ending the chorus with the phrase This Is the End.
After dense and thoughtful previous composition, instrumental motifs rushes into the cavalry assault, vocals holds them in verse, but in the The Fall chorus - sabers unsheathed, hussars! Well, fierce battles give rise to leisurely instrumental parts and meditations about combats.
In composition Means to an End, an energetic couplet drive is combined, reflections in the breeches and romantic thoughts of the chorus.
The album ends with Monuments - composition full of historical memories of the legends of the past, which gives romantic praise to ancient times.